A Message to Unite Members
Dear Colleague
Welcome to the 2022 Unite Education Programme for the South East Region. This booklet outlines the wide range of courses available to you as a Unite activist in the South East. In today's world of work, it can be challenging to be a representative. Our Education programme is designed to make sure you have the skills to support and empower our members in their day-to-day working lives. Our workplace reps courses and health and safety courses are all accredited by Ruskin College Oxford.
Due to the Covid 19 outbreak in 2020, we had to adapt how we deliver our courses to representatives by introducing an online virtual google classroom platform to run the training. This has been a great success in how we have delivered our training to the South East regional representatives therefore we are going to continue to offer this as part of our training model. In addition to this going forward all our courses will be available back in the Unite Offices and we are looking forward to welcoming representative back to face to face training.
The courses are arranged into four blocks each with five days in each block and run throughout the year at various locations in the region but as I write this all dates will be available to access online as well as the classroom once we can return to the office.
As well as gaining knowledge, everyone on the course is encouraged to share their experiences and develop problem solving skills that they can take back to assist them in their efforts in the workplace. In addition to the courses outlined in this brochure we can also offer short courses tailored to the needs of individual workplaces or activists. We are also keen to develop new courses to reflect specific strategic, industrial or political goals. For more information please contact myself and our Education team in the South East Regional Centre.
Education is the backbone of all of our efforts to organise and grow in the workplace, so please sign up for these courses either online or by emailing education.southeast@unitetheunion.org
In solidarity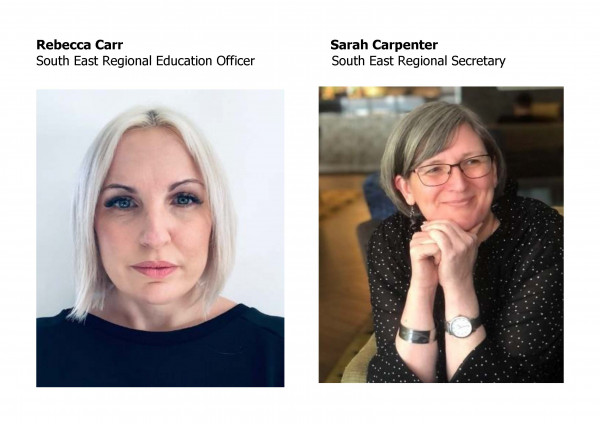 Click Here to download our new brochure